THIS ARTICLE HAS BEEN DEPRECIATED AND INSTRUCTIONS CONTAINED BELOW NO LONGER WORK WITH LATEST RASPBIAN. HOWEVER GOOD NEWS – ITS MUCH EASIER NOW SEE HERE:
This is an article on making a network attached Stratum 1 NTP Server using a Raspberry Pi+ Model 2 or 3 and the Uputronics Raspberry Pi+ GPS Expansion Board. If you need a standalone ready to go solution or need more performance please consider the LeoNTP Networked Time server unit which is available here.
As of May 2016 this was heavily reworked due to a new version of Raspbian which did all sorts of wonderful things like disabling the serial ports etc. This guide assumes Raspbian Jessie Lite June 2017 2017-06-21. No other version or distribution is supported.
I've also removed the off grid/standalone instructions as NTP isn't designed to work off grid using just the NMEA derived time and PPS to discipline it.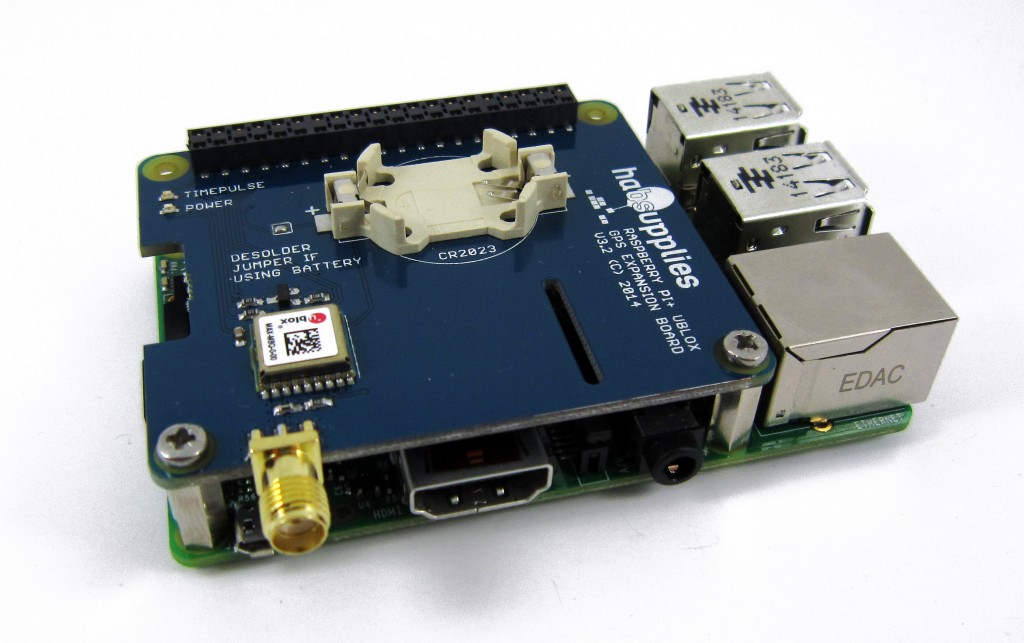 Uputronics Raspberry Pi+ GPS Expansion Board
Ideally rather than supplying a premade image I would have a set of concise instructions on making your own install from scratch so you could use the latest versions of the software. With assistance from David Taylor who did lots of background work on this here I present the following instructions on making a cheap PPS disciplined NTP Time server using one of the Raspberry Pi+ GPS boards sold on Uputronics.
The guide assumes you have a cursory knowledge of Linux, enough to install Raspbian and login should do.
You will need a Raspberry Pi 2 or 3 B+, the Uputronics Raspberry Pi+ GPS Expansion Board and a suitable GPS antenna.
This guide is assuming you're using Raspbian Jessie Lite installed from the June 2017 image. Download and write this to an SD card (See http://www.raspberrypi.org/documentation/installation/installing-images/README.md). Other distributions may work but these instructions are known to work with Raspbian Jessie Lite.
Attach the Uputronics Raspberry Pi+ GPS Expansion Board to the Pi, insert the SD card, connect the antenna and network cable and boot the Pi up. Either connect locally or via SSH to the Pi. Follow the instructions carefully if you miss steps things won't work.
Text in italics is what you type.
Text in red indicates editing inside a file.
Prerequisite Settings
sudo raspi-config
5 Interfacing Options
P2 SSH -> Would you like the SSH server to be enabled – YES (Recommended)
P6 Serial -> Login Shell (no) Hardware (yes)
Quit but no need to reboot at this point.
sudo nano /boot/config.txt
Add at the bottom :
# Allow the normal UART pins to work
dtoverlay=pi3-miniuart-bt
dtoverlay=pps-gpio,gpiopin=18
Save and Quit Nano.
sudo apt-get update
sudo apt-get dist-upgrade
sudo systemctl disable hciuart
sudo systemctl mask [email protected]

sudo apt-get install pps-tools
sudo apt-get install libcap-dev
sudo reboot
Verifying PPS Is Working
Ensure the GPS has a lock and the Green PPS LED on the Uputronics Pi+ GPS Expansion Board is blinking once a second.
dmesg | grep pps
Output should be similar to :

[ 2.443494] pps_core: LinuxPPS API ver. 1 registered
[ 2.446699] pps_core: Software ver. 5.3.6 - Copyright 2005-2007 Rodolfo Giometti <[email protected]>
[ 2.471796] pps pps0: new PPS source pps.-1
[ 2.471886] pps pps0: Registered IRQ 498 as PPS source
[ 6.965166] pps_ldisc: PPS line discipline registered
[ 6.966569] pps pps1: new PPS source ttyAMA0
[ 6.966664] pps pps1: source "/dev/ttyAMA0" added
sudo ppstest /dev/pps0
Output should be similar to:

 trying PPS source "/dev/pps0"
 found PPS source "/dev/pps0"
 ok, found 1 source(s), now start fetching data...
 source 0 - assert 1418933982.998042450, sequence: 970 - clear  0.000000000, sequence: 0
 source 0 - assert 1418933983.998045441, sequence: 971 - clear  0.000000000, sequence: 0
(Press CTRL+C to quit). This indicates the PPS Module is loaded (top example) and is working (bottom).
Enabling PPS/ATOM Support in NTPD
The supplied version of NTPD on the Raspberry Pi doesn't support PPS so we need to recompile it (Please note that some of these steps may take up to 30 minutes).
wget https://www.eecis.udel.edu/~ntp/ntp_spool/ntp4/ntp-4.2/ntp-4.2.8p10.tar.gz
tar zxvf ntp-4.2.8p10.tar.gz
cd ntp-4.2.8p10
./configure  –enable-lcap
make -j4
sudo make install
sudo service ntp stop
sudo cp /usr/local/bin/ntp* /usr/bin/ && sudo cp /usr/local/sbin/ntp* /usr/sbin/
sudo nano /etc/ntp.conf
Add
server 127.127.22.0 minpoll 4 maxpoll 4
fudge 127.127.22.0  flag3 1  refid PPS
Amend
server 0.debian.pool.ntp.org iburst prefer
You may also want to add your local lan to so you can query the NTP Server by adding:
restrict 192.168.1.0 mask 255.255.255.0
Note You MUST add a preferred server or PPS doesn't work. Its worth at this point seeing if you're ISP has its own NTP server you can use and adding that but for the purposes of this exercise adding prefer to the Debian pool one will do.
Save and close nano.
sudo nano /etc/init.d/ntp
Find the line NTPD_OPTS="$NTPD_OPTS -u $UGID"
Amend it to say NTPD_OPTS="$NTPD_OPTS"
sudo systemctl daemon-reload
sudo service ntp restart
After a few minutes run
ntpq –p
if you get oPPS(0) this indicates source selected, Pulse Per Second (PPS) used and everything is working.
If you aren't seeing the settings its possible the NTP server is picking up the NTP information via DHCP which is over riding your settings above. Do this :
rm /etc/dhcp/dhclient-exit-hooks.d/ntp
rm /var/lib/ntp/ntp.conf.dhcp

At this point you have a NTP server which will use an external time source and use your local PPS to discipline it.
Setting Stationary Mode
David Taylor's website here http://satsignal.eu/ntp/Raspberry-Pi-NTP.html goes into much further detail about the process above and covers graphing, remote access monitoring etc and I highly recommend you read it.
References from this draft document by Eric S. Raymond https://www.ntpsec.org/white-papers/stratum-1-microserver-howto/
Hope this helps, let me know how you get on with these instructions and I'll try keep them up to date.
Thanks to:
David Taylor
Dave Akerman
Chris Stenton for the new kernel fix.
Tris Mabbs for the DHCP issue heads up.
Michiel Kanis for testing DHCP fix.
Phil Heron for the GPSD Autostart fix.
Updated : 27/06/17 Fixed for new June 2017 Raspbian. Updated links to ntp-4.2.8p10.
Updated : 25/05/16 Fixed for Pi3/May Raspbian. Removed Standalone mode (NTP isn't designed for this)
Updated : 22/03/16 Added Pi3/Standalone etc
Updated : 24/02/16 Added Code to set stationary mode.
Checked : 29/09/15 Works with Raspian Jessie – Thx Ciaran!
Updated : 03/07/15 NTP version and location amended – Thx Greg!
Checked : 13/06/15 Works with 2015-05-05-raspbian-wheezy.img
Updated : 13/04/15 ntp-4.2.8p2.tar.gz links updated.
Updated : 23/02/15 Verified these instructions are good with 2015-02-16-raspbian-wheezy.img as a base
Updated : 20/02/15 ntp-4.2.8p1.tar.gz links updated.
Updated : 28/01/15 DHCP Client can pick up NTP from DHCP server and override all your good work. See below.
Updated : 27/01/15 New kernel breaks previous instructions. Updated.
Updated : 26/12/14 Updated NTP to 4.2.8 and tested with Raspbian 2014-12-14